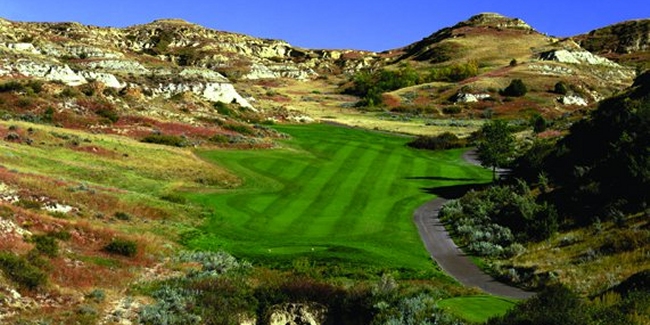 Unexpected Excellence Found on 4 Day Journey to North Dakota
By Glen Turk
I am a curious sort by nature. Maybe its just a trait inherent to golf writ-ers. So when I heard that North Dakota had created a Lewis and Clark Golf Trail with more than 20 affordable courses to choose from, lets just say my curiosity was piqued. I knew J.L. Lewis had once won the John Deere Classic and that Tim Clark finished second at this years Masters, but naming a statewide golf trail after them seemed a bit of a stretch. Fortunately for me, North Dakota native and travel partner Bill Harm informed me that Lewis and Clark were explorers. With that cleared up, we headed to the prairie fields and Badlands of North Dakota in search of good golf. And even though our journey was not nearly as epic as Lewis and Clarks just over 200 years ago, Bill and I discovered a golf Mecca in the Peace Garden State.


Sunday, May 7th, 2006
As we entered North Dakota at 8:30 p.m.we were greeted with a spectacular lighteningshow the pyrotechnics director from Warof The Worlds would be proud of. In thesummer months it stays light as late as 10:30p.m.-you know that whole sun sets in the west is a good thing for a city that closely borders the Mountain Time Zone. We checkedin about 10:00 p.m to the Ramkota Hotel-aclassy Best Western facility near downtown Bismarck. With rooms over looking a hugepool, hot tub, and sauna, I realized a rainyday wouldnt be the worst thing in the worldduring the trip. Bill and I knew we had tosleep fast, for 36 holes were on the docket-thealarm was set for 7:15 a.m.
Monday, May 8th
Its time to take North Dakota by storm with 36 holes on day one. The opening 18, a county park facility called Tom OLeary only steps away from the State Capitol. OLeary is a fun, sporty course that is undergoing some great renovations. The 5515-yard track is perfect for beginners or those more skilled that may need a short-game tune-up. The course features wild elevation changes, blind shots, and smooth greens. All this for an incredible price. The remarkable value of North Dakota golf was a continuos theme on our trip. Please refer to the Value City graphic within this fea-ture for a listing of Bismarck-Mandan area golf rates.
After a much needed stop at a Midwest delicacy, Taco Johns, Bill and I drove across the Missouri River to Mandan, ND so we could check out Prairie West, a solid links-style course known for its excellent condi-tion. Their reputation was correct as Prairie West reminded me of the Fox Hills National course in Mishicot, Wisc., only with a few more trees. The front nine is more scenic than the back, featuring the signature par-5 6th, complete with a cascading waterfall and minuscule putting surface. The course plays out to 6681 yards and provides even better players a stern challenge. Ironically, I saw more Green Bay Packer golf merchan-dise in the pro shop than I have at courses in Wisconsin. A great sign for sure.
Tuesday, May 9th
Terry Harzinski of the Bismarck-Mandan Convention and Visitors Bureau suggested we play an out of the way, 9 hole course 38 miles north of Bismarck called Painted Woods. We wondered why a course in the middle of nowhere was worth visiting? When we got there all doubts were quickly quelled. One of the most spectacular golf views I have ever witnessed was from their adjoining clubhouse porch. All nine holes were present as the entire course is set in a valley surrounded by Painted Woods Creek. The namesake body of through, around, and between all nine holes. The course plays out to 2979 from the tips, but dont let the shortness fool you. Every hole is demanding, thrilling, and most of all just simply cool. The funniest thing we heard all week was from a sweet employee named Molly, who told us instead of going on Medicare she decided to take up golf a year ago. Golf may be the best health plan this side of Canada. The second best phrase of the trip-the sign in the mens room that read: Time spent golfing will not be deducted from ones lifespan. Thats especially relevant for Bill and I, who feared 150 holes of golf in six days may lead to an increase on the deductible of our respective life insurance policies.
That afternoon we were supposed to play Hawktree, North Dakotas top-ranked course just north of Bismarck. But with 30 m.p.h. winds circling the open plains, we altered our plans at the urging of Dan Waldoch-the director of all things good when it comes to Bismarck golf. So we traveled 10 minutes into town to Riverwood, a 1969 cottonwood lined beaut that reminded me of Brown Deer Park-home of the U.S. Bank Championship. With Dan and Chuck Ruppert, Hawktrees Head Professional, serving as our tour guides the day could get any better unless cashews, a.k.a. the Cadillac of nuts, starting falling from the sky.
The two legends of North Dakota golf traded light-hearted jabs for four hours that belied their mutual respect for one another. Riverwood was in immaculate condition, in large part to the fact that carts are not allowed on the course. The double wide paths though made me feel I was on the inside passing lane at the Indy 500 on more than one occasion.
The entire Riverwood experience was one of the best on the trip. So exhilarating in fact, we decided to play it again Friday afternoon, the only course we doubled while in Bismarck. The Park Districts goal has always been to provide affordable recreation for our residents, stated Dan Waldoch, Golf Operations Manager Bismarck Parks and Recreation District. We are extremely lucky in Bismarck on how good our public golf courses are. If some of these facilities were in other areas they might cost $200 to play or $250,000 to join. We encourage residents and visitors to try all of our great venues because they are all unique.
Wednesday, May 10th
North Dakota is fortunate enough to have two of the top 100 modern courses according to the March 11, 2006 issue of Golfweek Magazine. Number 64 on the list is The Links of North Dakota in Williston, ND. The course has been featured on that lofty list every year since its opening in 1995. The Links of North Dakota recreates the lore of Scottish golf without having to wait three months for a passport. Lake Sakakawea was formed by the damming of the Missouri river and provides an amazing backdrop for links style golf thats on par with Whistling Straits. Designer Stephen Kay has intricately woven fairway contours and moguls with sharply sloping greens and collection areas to elicit to true out of this world golf experience. All of the holes look like they belong here, I dont believe youll find much better scenery anywhere in the world. We only had to move about 9,000 cubic yards of dirt in the design process. Stephen Kay used the natural terrain to its advantage, this is a Field of Dreams-for if you build it they will come, stated Mitch Kersten, The Links Head Professional and General Manager.
The layout is incredible, as shots that appear to be heading into the lake are somehow driven toward land. All-carry, treacherous par threes that must be played to be believed also highlighted the journey. Overall, one of the most memorable golf experiences Ive ever had, even though I shot the temperature on the front side and my dads age on the back. For more information on The Links of North Dakota, visit their website at
www.thelinksofnorthdakota.com
or call 1-866-733-6453. Location is the courses only downfall, that and the fact the closest gas station is 28 miles away.
Now it was off the Medora, home to Bully Pulpit- Golf Digests top new affordable public course in 2005. A three hour drive from The Links took us through Theodore Roosevelt National Park. With more earth tone colors than the 64-pack from Crayola, The Badlands were a breathtaking sight to see for the first time. Red, pink, grey, and beige rocks covered with green trees filled the horizon as far as the eye could see. A sur-real type of beauty for someone who has only seen them on a postcard. Our one night stay was at The Badlands Hotel, a cozy spot at the foothills that recreated an old time western feel to a tee.
I thought the Links of North Dakota was stunning, little did I know what Thursday would bring.
Revised: 11/08/2010 - Article Viewed 39,061 Times
About: Glen Turk
---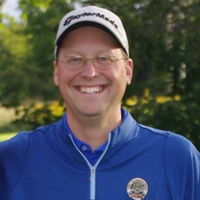 Glen Turk is a Wisconsin native and is the Senior Writer/Editor of Midwest Golfing Magazine. Midwest Golfing Magazine was formerly known as Pub-Links Golfer's Magazine and is a free publication distributed four times per year throughout Wisconsin, Illinois, Michigan, Minnesota, Iowa, Indiana, and Ohio.

His duties at MGM include writing course features, facilitating product testing, and overseeing the overall content and look of the magazine. But clearly his most important task is playing as much golf as his wife allows. Fortunately for him, she plays also and loves out-driving him even with a 60 yard head start.

Glen plays to a 6 handicap but once set a record by having his ball retriever regripped 15 times in one calendar year. It was a December trip to Guam that ultimately did him in. Finally, if you haven't caught on by now, the two most worthy weapons in Glen's writing arsenal are self-deprecating humor and pithy one-liners.

My signature line, "Be A Force on The Course" and now more recently, "Hit 'Em Where They Mow!" can be reused at no charge.

---
More Articles by Glen Turk
More Related Articles